Project Description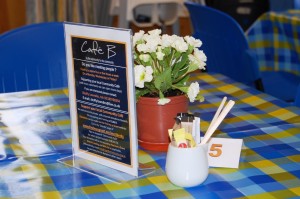 Café B is Burghfield's first ever Community Café run by local volunteers and managed & organised by TiM. The Café is a partnership "pop up" project with Burghfield Methodist Church and staffed by members of many different churches and other local residents.
The Café serves delicious fresh Kingdom coffee, cake and hot & cold snacks with high street quality at village prices.
Opening times:
Mondays  – 9am to 4pm and Wednesdays – 9am to 12pm.
Last food orders are 3pm on Mondays and 11.40am on Wednesdays
Café B is now seen as a flagship project which hosts frequent visits from other organisations wishing to style other successful café projects.
"The cafe is a wonderful support for the community. It's so much more than a coffee shop. It's the only place I get to meet people and make new friendships. And the coffee is great!"
Contact this Service:
Enquires in person to: The Manager, c/o Burghfield Methodist Church Hall, Reading Road, Burghfield Common, Reading RG7 3QA (Parking Available) Map
When:
Mondays  – 9am to 4pm and
Wednesdays – 9am to 12pm.
Last food orders are 3pm on Mondays and 11.40am on Wednesdays
Email hello@cafeb.org.uk
Website www.cafeb.org.uk
Facebook www.facebook.com/CommunityCafeB
Twitter @communitycafeb
Café B is a UK Registered Trade Mark